Return to Headlines
Community Groups Honor Exceptional Flyers
February 7, 2017
Kiwanis Names Students of the Month
Lindbergh High School seniors Grant Grempler and Jennifer Duepner recently were honored as students of the month for December and January, by the Kiwanis Club of Crestwood-Sunset Hills.
Grant Grempler
Grant was nominated for his dedication, academic achievement, creativity and positive attitude, said Class of 2016 counselor Dr. Jon Riethmeier.
"Grant is extremely positive and polite, and always has a smile and a kind word for others," Riethmeier said.
Outside of school, Grant has been on five mission trips with his church, volunteers during the summer for Oasis Ministries, and has served as a volunteer for Circle Star Ranch, a camp for children with disabilities.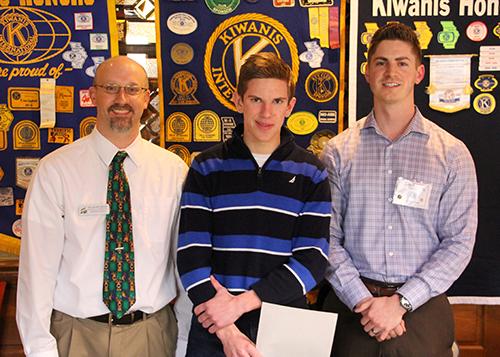 Jennifer Duepner
Dr. Reithmeier describes Jennifer as an extremely hard-working dedicated student who has a passion for the sciences, has taken five AP science courses and plans to study biology in college with the ultimate goal of becoming a doctor.
Jennifer is a member of the National Honor Society, Interact Club, and Environmental Club. Last summer, she traveled to South Carolina on a mission trip to build a new roof for a family affected by flooding. She also showed caring and compassion to her classmates and even LHS teachers following the death of a student last year.
"Jennifer brings together some of the best characteristics in a human – a motivation and drive to succeed, as well as strong compassion and a caring attitude for others," Riethmeier said.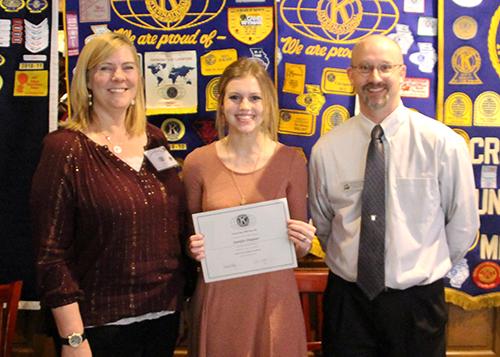 Rotary Names Students of the Month
Lindbergh High School senior Taylor Seckel was recently honored as December student of the month by the Rotary Club of Crestwood-Sunset Hills, and sophomore Samantha Stoecklein was selected for the club's January student of the month honor.
Taylor Seckel
Taylor, a student in the LHS Academy, was nominated for her perseverance in academics and her service to the community.
"She serves as an excellent role model for other students and is an inspiration to all in service to our community," said LHS teacher Daniel Murphy, who nominated Taylor for the award.
As a student in the A+ program, Taylor has served many hours helping students at both Sperreng Middle School and Lindbergh Early Childhood Education. She was the lead student in the Academy's effort this fall to rake leaves for community residents who are unable to do yardwork on their own. In addition, Taylor led a school beautification project with her father, helping to paint the Academy hallways at school.
Outside of school, Taylor volunteers at animal shelters, and has participated in runs and walks for charities.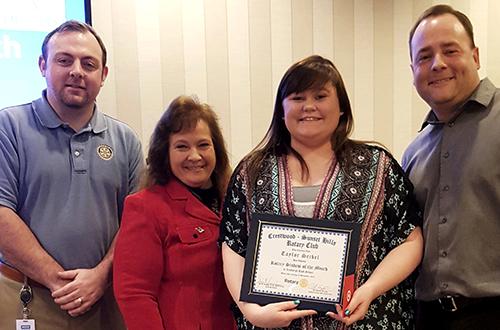 Samantha Stoecklein
Sammy was nominated by the LHS Character Education Team as a wonderful example of a student who excels academically, yet still takes take for service above self to help others in her classes, school and community.
In addition to playing volleyball for the LHS Flyers, Sammy also plays on the High Performance Volleyball Club. She also volunteers as an assistant coach and mentor for the club's 10-year-olds team, and is involved in Fellowship of Christian Athletes.
Sammy has earned the LHS Renaissance award as a freshman and sophomore, and is on the St. Louis Post-Dispatch "A" student list.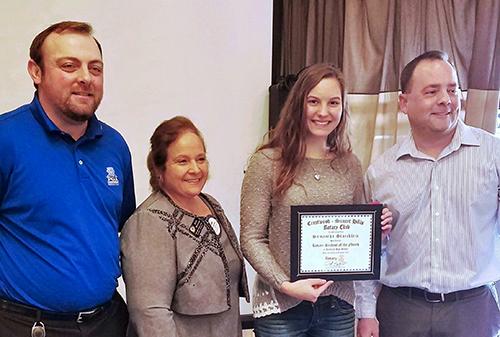 Kiwanis Club Honors Distinguished Educators
The Kiwanis Club of Crestwood-Sunset Hills recently named Lindbergh High School ELL teacher Christina Mendoza as the December Distinguished Educator, and Sperreng Middle School teachers Diane Slattery, English, and Nick Wagenknecht, health and fitness, as its January honorees.
Christina Mendoza, English Language Learners, LHS
ELL teacher Christina Mendoza works closely with students who represent various nationalities and speak multiple native languages, to help them succeed at school and in their transition to a new country.
"Christina does more than support these students as they learn to speak English, she also helps them master their coursework and adjust to a new culture while still honoring and celebrating their own roots," said LHS Principal Dr. Eric Cochran. "Christina is universally beloved by the students she teaches and her impact on them is immeasurable."
Each of Mendoza's students who took the Missouri End of Course exam in English last year scored proficient or advanced, an outstanding accomplishment for students who are new to the English language. Mendoza is also co-sponsor of the LHS Interact service club.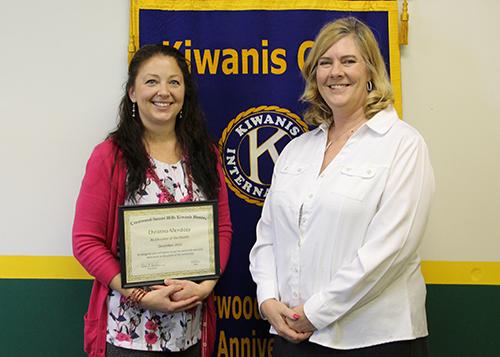 Diane Slattery, English Language Arts, Sperreng
Diane Slattery teaches English at Sperreng Middle School and is a longtime sponsor of the Builders Club, a student service organization.
"Diane has spent many years enhancing the lives of the children she works with," said Principal Dr. Mark Eggers. "She has a giving spirit and huge heart and will work into the wee hours of the morning to ensure that her students have what they need."
Nick Wagenknecht, Health and Fitness, Sperreng
Nick Wagenknecht was selected for being a flexible teacher who takes on challenges with patience and compassion and always brings positive energy to his work. This year, Wagenknecht has taken on fifth grade PE and a seventh grade girls class, in addition to his regular assignment of sixth grade boys. He also coaches volleyball at LHS.
"Nick always has that little extra to give, always staying sharp and fun for his students and colleagues," said Principal Dr. Mark Eggers.