Return to Headlines
Community Groups Honor Exceptional Flyers
April 18, 2017
Kiwanis Names Lindbergh Senior Student of Month
The Kiwanis Club of Crestwood-Sunset Hills recently named Lindbergh High School senior Sam Bailey as student of the month for March. Twelfth-grade counselor Dr. Jonathan Riethmeier noted that Sam has taken advanced courses throughout high school while maintaining a 4.2 grade point average. He has played hockey all four years, with three years on varsity; and participated in band during ninth and tenth grade. Sam has achieved all of this with a strong work ethic and positive attitude. He plans to attend a four-year university next year and major in engineering or business.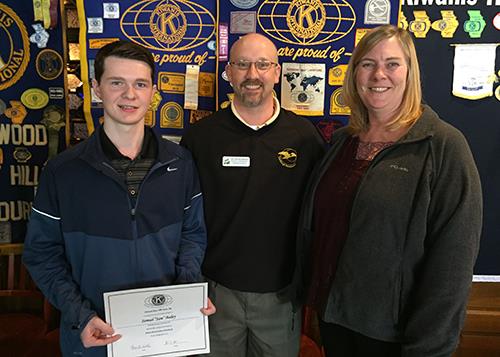 Rotary Honors February Student of the Month
Lindbergh High School sophomore Kevin Becker was honored as February Student of the Month by the Crestwood-Sunset Hills Rotary Club. Kevin consistently puts service above self while maintaining academic excellence and winning the LHS Renaissance award. Recently, he donated one week's salary from his job at Bartolino's South to help the Interact Club purchase a Onil stove for a service mission to Guatemala. These stoves provide families living in poverty with a safe, efficient way to cook and keep their homes warm.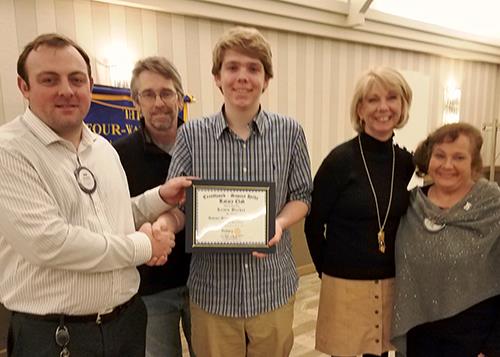 Kiwanis Club Recognizes Exceptional Crestwood Educator
The Crestwood-Sunset Hills Kiwanis Club recently recognized Crestwood Elementary School fourth-grade teacher Katie Dausmann as the club's Exceptional Educator for March. Dausmann has been an educator for 10 years. Her favorite part about teaching is helping children develop a sense of self and moral character. She enjoys teaching kids about different personal qualities they can adapt and improve upon, such as self-reliance, responsibility and cooperation.
In 2016, Katie was named Crestwood Elementary School's Teacher of the Year. She was also named Teacher of the Year at Cordil-Mason Elementary School (in Blue Springs, Mo.) in 2012.
"Katie is a phenomenal teacher," said Crestwood Principal Jodi Meese. "She is a natural at building relationships and trust with the students in her classroom. Her calm and kind demeanor naturally allow for students to feel connected to her style of teaching and make them excited about learning. I am constantly in awe of her ability to connect with kids!"
Katie earned her bachelor of science in elementary education and her master of education degree in curriculum and instruction from the University of Missouri-Columbia.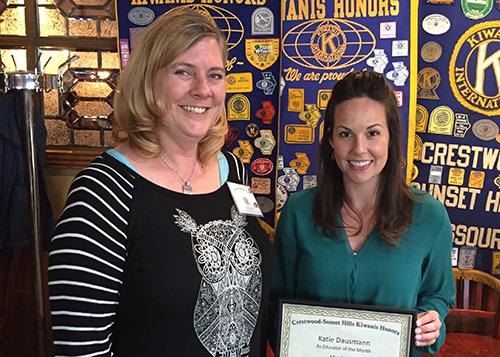 Rotary Honors Lindbergh Student of the Month
Lindbergh High School senior Thomas Berra was honored as March Student of the Month by the Crestwood-Sunset Hills Rotary Club. Thomas was honored for his academic achievements and commitment to the Rotary's core value of service above self. Thomas consistently takes time to help others in his classes, school and community. Recently, Thomas designed a new logo for Lindbergh High School's values, which are caring, respect and character. His design will be featured on decals and publications throughout the school.
In addition, Thomas is active in St. Paul's Youth Group, runs a leadership camp for youth through the Archdiocese, and sponsors a Guatemalan child through Unbound. Thomas was a member of the LHS state winning volleyball program and is currently involved with the marching and concert bands. He is an A+ tutor at Truman Middle School, helping young band members develop their skills. Thomas has received an academic scholarship to Lindenwood University, where he plans to study media design, advertising and marketing.